Floor Waxing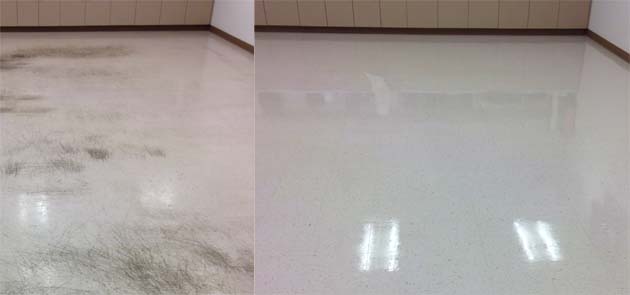 Before and After Floor waxing
We can create a custom design program to meet your budget and expectations. The services that are usually perfumed on vinyl flooring are
1. Stripping and waxing – in this process our technicians will strip down all the existing finish on your vinyl, neutralize the floor and apply four coats of high quality floor finish, this process is usually performed once or twice per year.
2. Scrub and recoat- this process is recommended on a lightly worn floors. The process is much less labor intensive than full stip. It is concluded by deeply scrubbing and removing only the top coat of finish that is usually contaminated with a dirt and after that reapplying two new few fresh coats of floor finish.
3. Spray buff – process is performed by sweeping the floor and scrubbing it with a floor machine. After that is burnished with a high speed propane burnished: Recommended from monthly to daily basis depending of the foot traffic.